Collaboration tools for marketing teams
The perfect tool for busy marketing teams.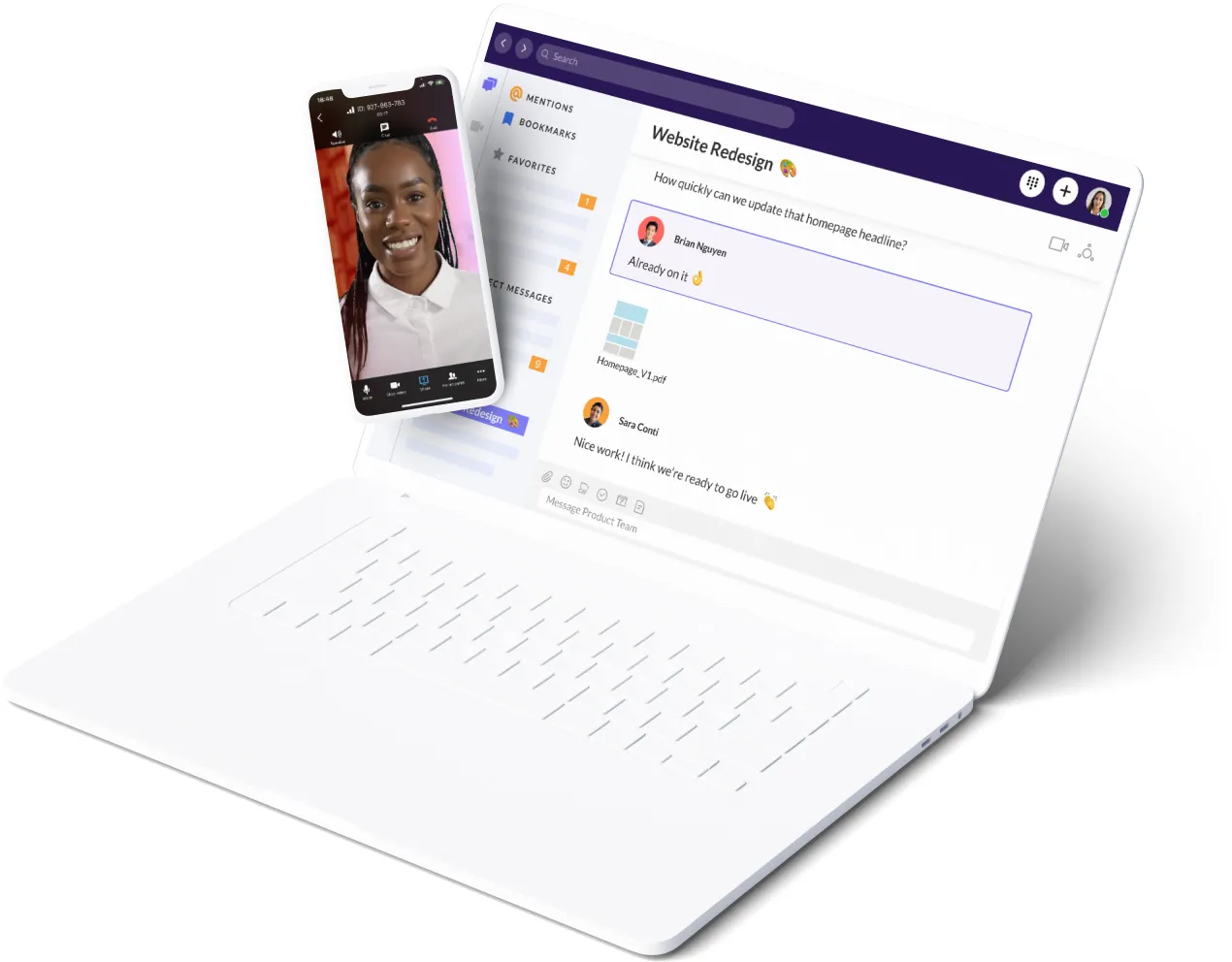 Team messaging and more for marketers
Need to chat about a project, share the latest mockups for an ad campaign, or have a weekly team meeting? Marketing teams can do it all, in one handy app.
Create team or project-specific messaging threads.
Create tasks for specific tasks to keep projects rolling.
Upload documents and share them with your team right in Glip.
Working with freelancers and partners? Invite them to Glip for free!
Want to have face-to-face discussions in your one-on-ones or team meetings? You can start or schedule a video conference call right in Glip.
Sometimes, just a quick message will do. Because hey, not everything needs to be a meeting. You can do that in Glip too. Have one-on-one chats, or start a group thread (and hit the star icon to favorite your—well—favorite chats). 
With built-in task management, Glip lets you create and assign tasks with in-depth detail to get the job done, with task notes, assignees, start and due dates—everything you need to stay organized.
Invite guests to the party
If you work with freelancers, agencies, and clients, Glip makes it easy to collaborate with them in the app—for free. That means they'll have access to all the great features they need to collaborate with your team like file sharing, video conferencing, and more.
Plays nice with every device
Whether you're on a Mac or PC, an iPhone or an Android phone, Glip's desktop and mobile apps work on all these devices. You and your guests don't even need to download the app to join a video call on Glip—just join from a browser using a link.
Integrations that marketing teams love
Integrations are great. They can automatically sync your data, send you notifications when a new campaign goes out, and more. Here are just a few tools that Glip integrates with.
Upload and share proposals and docs from your Google Drive account.
Get a notification in Glip when a project or task gets assigned or moved to the next stage.
With this integration, your team can get notified in Glip when a newsletter campaign goes out.
Get access to Zapier's massive library of thousands of additional integrations.
Get Glip notifications for triggers like a clicked link in an email or a filled out form.
Integrate your Microsoft 365 or Google Workspace calendar to automatically add meeting links to invites.
Get unlimited meetings & messaging 
for your marketing team
Work together, from anywhere.