An all-in-one IT communication solution
Video, messaging, and screen sharing—in one collaboration tool.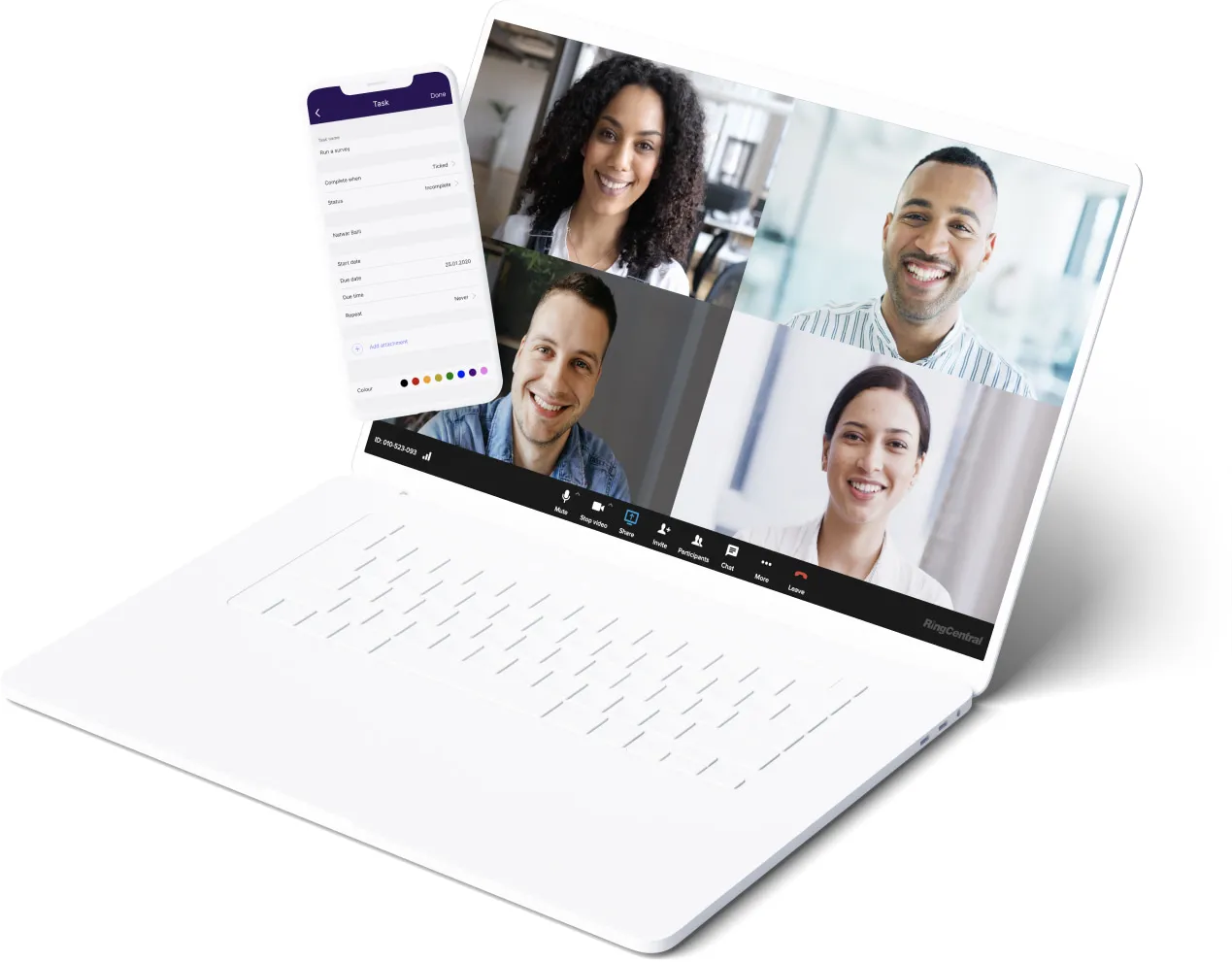 Simplified ticket tracking, agile workflows, and more
Want to have a single place for team messaging, task management, file storage, and even viewing notifications from other apps (like Zendesk)? Glip can give your IT team that.
Take quick questions in a team message.
Support the company from anywhere with the mobile app.
Walk your team through issues on a video chat.
Keep all your to-dos organized in Glip.
System access requests. Computer fix requests. Onboarding requests. These pleas for help can happen anywhere, anytime. With Glip, you can stop keeping a mental list of all the promises you've made to help your colleagues with their IT challenges. Just pop open Glip, and with a few clicks, you can create, assign, and track a new task.
Keep your tech docs in one place
No more passing docs back and forth in emails (where you'll quickly lose track of which version is current). Use Glip to share, discuss, annotate, and search for files while keeping everything in one place. Plus, you can upload files from anywhere, including cloud apps like Google Drive.
Walk them through a screen share
Maybe someone on the tech team needs to walk you through the details of a system deployment. Or maybe you want to let a sales rep demo a new solution for your team. With Glip, you can share your screen on a live video chat with your IT colleagues and folks outside the tech team. Just fire up your Glip video chat, invite your guests, and click to start screen sharing.
Chat with just the right people
If your IT team is like most, you're engaged in conversations all day. One-on-one emails, instant messages, group email threads... Staying current with all of these communications isn't always easy. Finding them later? Almost impossible. With Glip, you can reduce the email clutter and have just the right conversations with just the right people (or teams) in one convenient place.
Stay on top of issues from anywhere
A question comes in from an exec after you've left the office. An urgent issue pops up when you're away from your desk. What do you do? Well, if your IT team is using Glip, you'll be able to see these updates instantly on your mobile device. Review Glip messages from anywhere, respond to the important ones right away—and leave the rest for when you're back on the clock.
Bring in your favorite integrations
Tired of jumping in and out of apps all day to make sure your IT team isn't falling behind on important alerts and updates? Use Glip to streamline the notification chaos from your other apps like ServiceNow and Asana.
Managing your IT workflows through ServiceNow? Get those alerts right in Glip.
If you manage projects in Asana, you can pull notifications from that app straight into your Glip teams.
Need to share files or tech docs with your Glip team? Upload them to Glip right from Google Drive.
Don't see your apps listed? Glip integrates with Zapier, which integrates with… everything!
Get unlimited meetings & messaging for your IT team
So they can work together, from anywhere.