The perfect HR tool: video calls, messaging, and more
From video interviews with candidates to group messaging threads, Glip can handle pretty much any form of communication that an HR team needs.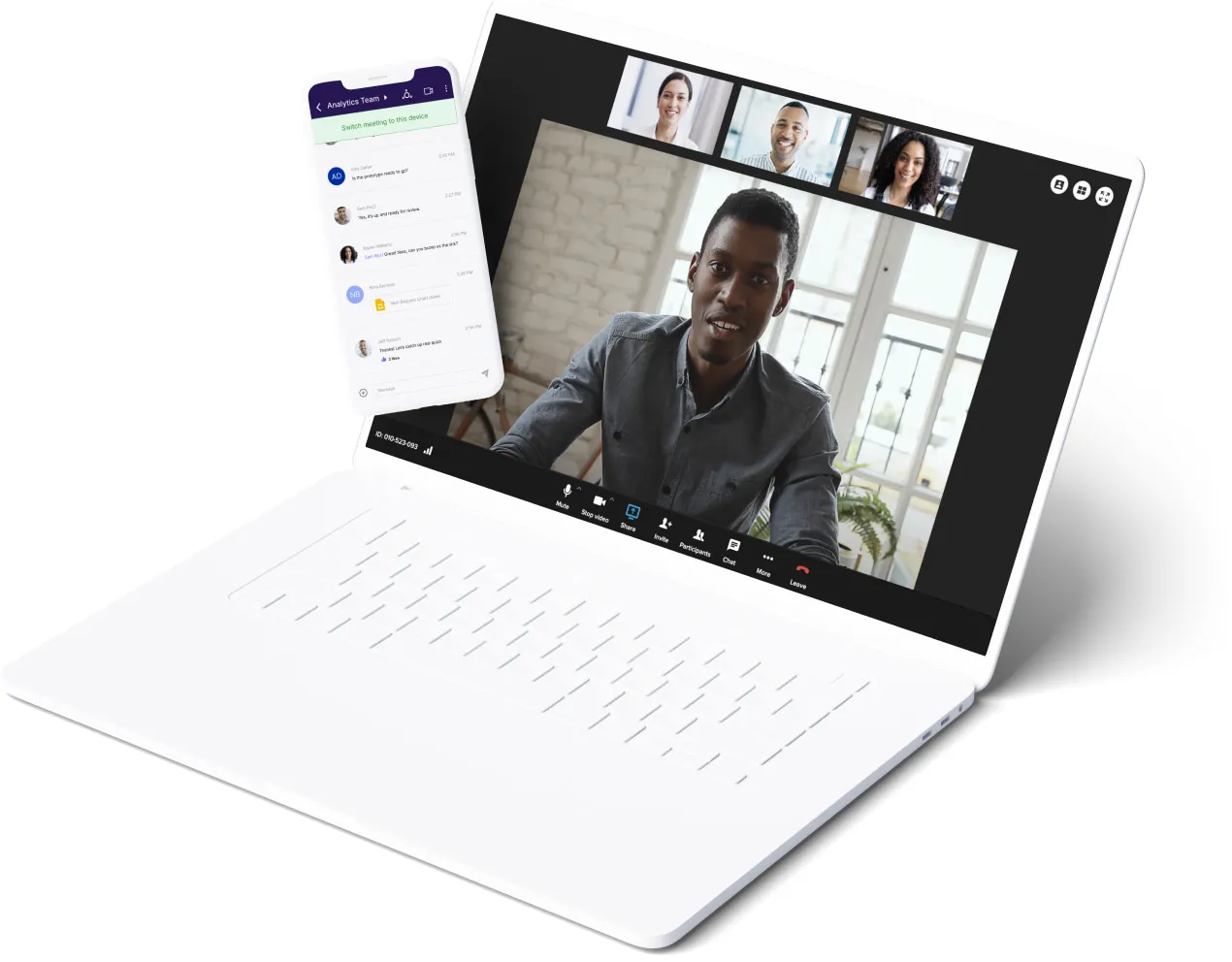 Bring your HR team together
Team messaging. Video conferencing. Screen and file sharing. HR teams need to communicate with different stakeholders through a variety of channels every day—and you can do it all in Glip.
Perfect for when you want to chat, but don't need a meeting.
Hop on a video interview in one click.
Keep track of to-dos with Glip's tasks feature.
Upload and share files while reducing email clutter.
Need to conduct video interviews with job candidates? Or map out company benefits with your team? How about just answering questions face-to-face with employees in different offices? Start a video call in Glip—and your meeting attendees don't need to download the app either. They can join through their web browser using a meeting link.
Keep track of events and deadlines
You've got a video meeting with a candidate on Tuesday. Your employees' open enrollment period ends on the 30th. And you're training a new hire tomorrow. With Glip, you can track and share all these events, color-code them, and even sync events from the other calendars right to Glip.
Upload and share files in a click
Share onboarding docs with new hires, send out benefits forms, or ask the marketing manager for feedback on the job description for that designer role. Glip gives you unlimited storage space to share, store, and collaborate on files. You can also integrate with document sharing apps like Dropbox, Google Drive, and Confluence.
No need to jump around all day between different windows from email to chat app to task management tool. Keep all your communications in Glip. Set up as many Glip teams as you need to coordinate with staff across departments, or simply start a direct message for 1:1 chats with a candidate or new hire.
Recruit and hire from anywhere
With Glip's desktop and mobile apps, you can get more done no matter where you are. Mac, PC, Android, or iPhone—Glip works beautifully across pretty much every device.
An HR tool has to have HR-friendly integrations
Already using other software? Glip can probably sync with them—for example, by pulling in alerts from your other apps and adding events from the other calendars your team uses directly into Glip.
Using Outlook or Google Calendar? You can sync them to Glip and see all events right in the app.
If you manage projects in Trello, you can pull notifications from that app straight into your Glip teams.
Upload a payroll form, show your team a mockup of the HR portal, and more. Upload files to any Glip team from Google Drive.
Don't see your apps listed? Glip integrates with BambooHR, Greenhouse, and other apps through Zapier!
Get unlimited meetings & messaging for your HR team
So they can work together from anywhere.