Collaboration tools for design teams
Review brand guidelines in a video meeting or message your team about a new mockup. Glip lets you do it all.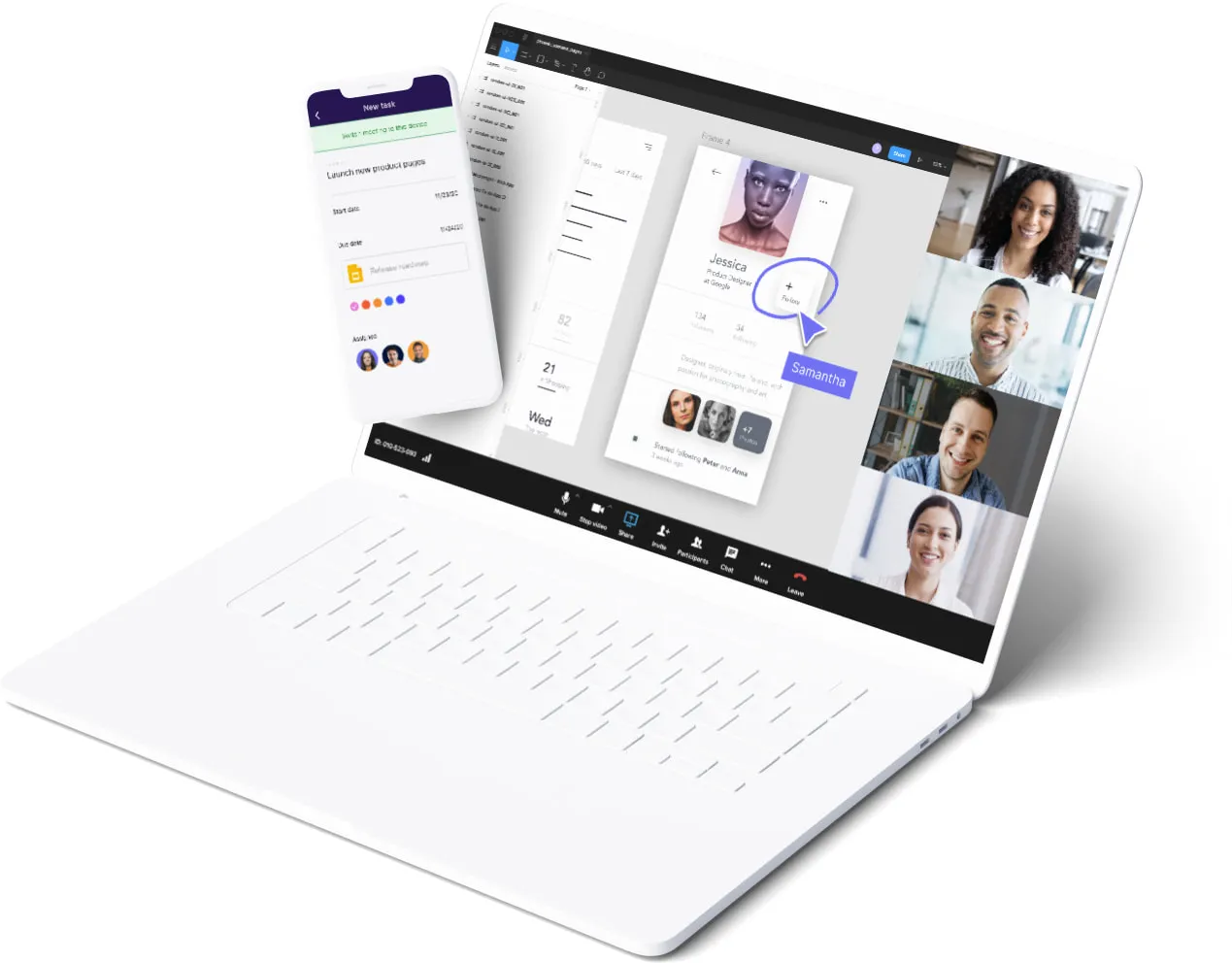 Design on target, on time
Need to message your team in a group chat? Upload and share files? Hop on a video call? Glip does all that—and more.
Have team meetings and one-on-ones. (With screen sharing!)
Send your team messages in real time.
See all your tasks and due dates in Glip.
Yep, Glip has unlimited file storage.
Because sometimes, meetings just need to go for longer than 40 minutes. With Glip, not only can you invite unlimited users to the app—which also has built-in screen sharing—you can also have video meetings with no time limits. Just in case.
File storage, all in one place
Are you paying for separate file storage? Have you ever spent ages looking for files in old email threads? Agonizing. Good news is with Glip, you can upload (from your own computer or other apps like Google Drive) and share files with your team, right in the app. Everything you need is in one handy place.
Sure, there are the big design projects, but each of these projects often consist of smaller tasks like meeting with clients, drafting individual project elements, and coordinating with developers. With Glip, your team can assign, create, and track tasks in the same message threads where you're already chatting and sharing feedback on files.
No more hopping between emails, instant message threads, and phone calls to communicate with your team. Glip lets you have truly collaborative design discussions with the right people, at the right time. Keep all of your messages in one place, organized by project, task, or team. Did we mention that messaging is unlimited too?
Design wherever you feel inspired
In the park. On the train. In a coffee shop. Who knows when and where your next creative inspiration may strike? Glip's desktop and mobile apps give you all the tools you need, wherever you may be. So chat with your team, share your new design draft, and review your client's feedback—even if you're nowhere near the office.
Integrations that designers love
Spend less time hopping in and out of different apps—and more time designing. Glip's integrations make your life easier by doing the little things like automatically syncing files, sending you alerts on projects, and more.
Need to share a client's brand guidelines or show your team a mockup? Upload files to your Glip chats right from Google Drive.
If your team tracks events and project deadlines in a shared calendar like Outlook or Google Calendar, you can automatically sync them to Glip.
If your team tracks tasks in Asana, you can pull update notifications (like when a review task is marked "complete") into the right Glip conversations.
Using a design app that's not listed in Glip's built-in integrations? Zapier connects Glip with even more design tools!
Get unlimited meetings & messaging for your design team
And free them to work together, from anywhere.