Glip for customer support
Customer support tools designed to help you keep customers happy
Provide real-time support—and real-time solutions.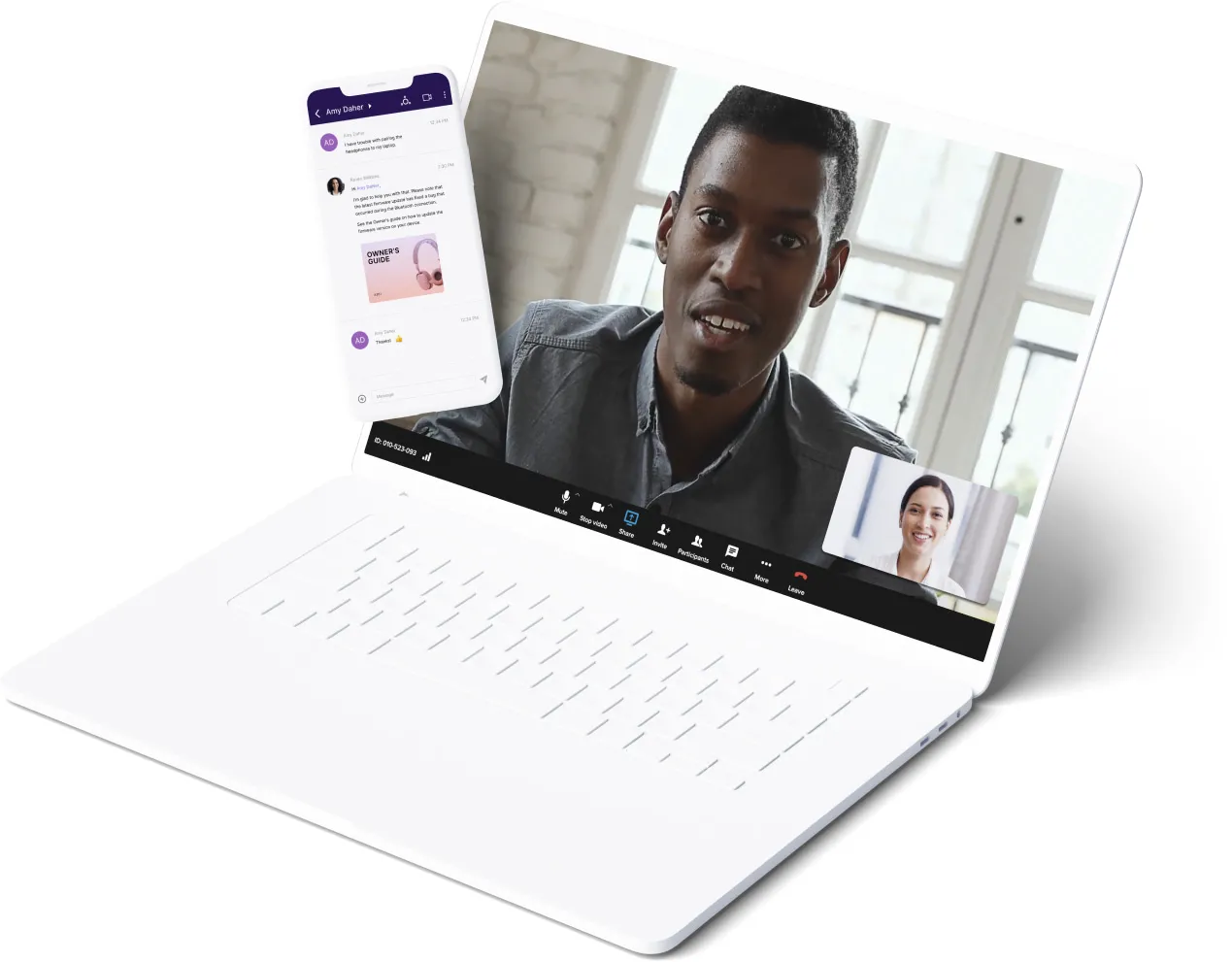 More collaborative customer service = 
more satisfied customers
Get real-time help from other agents on tricky customer issues, monitor tickets from apps like Zendesk, and more. Your customer support team can do it all in Glip.
Tricky customer question? Message a teammate to get help instantly.
Need to get on a call with a client? You can do that right in Glip.
Or any docs you want! Glip has unlimited (yes, you heard us right) file storage.
Assist customers or clients no matter where you are with the mobile app.
Get answers fast, from the right people
Quickly share knowledge and expertise across your team. Glip lets you chat in real time when you need help with other agents, managers, subject matter experts, you name it. See who's online and send a direct message (or @mention the right people in a group chat) for a faster response.
Easily accessible info at your fingertips
Because Glip keeps a record of your team's messaging history, shared files, tasks, and more, everyone can quickly find answers that another support rep might have already dealt with in the past. No more back-and-forths over email and waiting around for responses.
Sometimes you just can't solve a customer's problem over a phone call or text chat. Maybe the issue is complex or the customer can't quite explain where things are going wrong. With Glip, you can start a video meeting and even let your customer share their screen to actually show you what's wrong. Or you can share your own screen and walk a customer through the steps needed to fix the issue.
Share the knowledge (and files)
If your customer support team needs to share, store, and annotate files, you can do it directly in your Glip team. That means you can upload a product manual or video training file to a Glip team you've created for a certain customer segment (or even a specific client). It also means you can create a centralized library for your product manuals, instructional documents, video training files, and customer support best practices and let your entire support department access them anytime.
Support customers from anywhere
Who says a help desk agent needs a desk? Sometimes a customer's question is so complex that your support agent will just need a quiet place to think about it. Or maybe you're just working from home that day. Glip lets your team work, communicate, and collaborate from anywhere, on any device. So let your team review shared files, message a supervisor or client, and even host a video call—wherever they are.
Integrations that collaborative
customer service teams love
RingCentral Pulse™ for Contact Center
With RingCentral Pulse for Contact Center, your team can monitor important metrics and address issues with real-time alerts in Glip.
Pull ticket updates from Zendesk into your Glip chat and monitor customer support updates—without having to keep checking Zendesk.
Post alerts and other messages from your team's ServiceNow account right into your Glip team conversation.
Never miss an important meeting. Pull events and alerts from your Google or Outlook calendar right into your Glip chats.
Get unlimited meetings & messaging 
for your customer support team
So they can work together, from anywhere.