An all-in-one team collaboration workspace
A collaboration app designed for teams of all sizes, from 2 people to 2,000 people.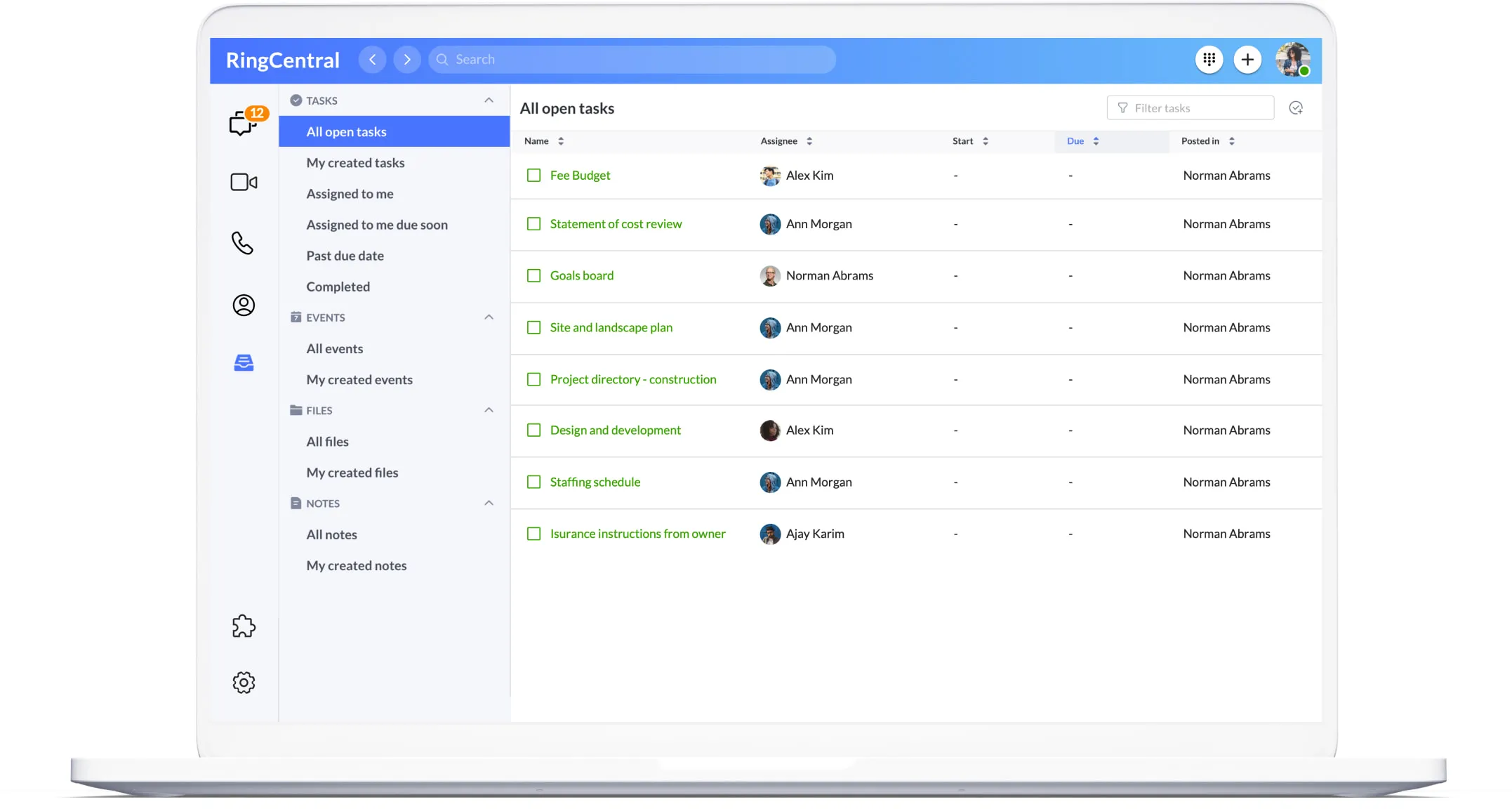 Meet the collaboration tool that just gets it done

One app, multiple communication channels for whatever your team needs.
Work with anyone + everyone
Glip isn't just for internal teams. You can invite external partners too, like freelancers and clients.
Get stuff done as a team with task management and file sharing, right in Glip.
Your home for team collaboration
Finally, everything in one place
No more scattered documents, drafts, messages, and tasks. Glip gives you the full picture of every project with messaging, video conferencing, screen sharing, and more, all in one app.
Integrates with your favorite apps
Whether you use a CRM, marketing automation platform, or email marketing platform (or all three), Glip integrates with hundreds of popular apps. These integrations let you get more done—without leaving your team conversation in Glip. Get alerts right in Glip about customer service requests, e-commerce orders, or other important notifications from your other apps.
Collaborate through video...
Whether you're just working from home for the day or have teammates and clients around the world, Glip's video conferencing feature makes it easy to start or join a virtual meeting from any device—plus it's designed for Apple, Android, and PCs too. (Or, just join from your web browser with a link!)
Or keep it to your group chat
Alternatively, you could skip the meeting and just chat with your team in a quick stand-up over chat. This is also where you can share, assign tasks, and even create shared notes. However you prefer to get things done, you can do it in Glip.
Have lots of tasks to keep track of? Glip's built-in task management feature gives you the power to create and assign tasks to your teammates. Just set a due date, add a description, and choose an assignee (or two). You can even upload relevant files and color-code each task for easy organization.
Collaboration tools, designed for business
Message, meet, and more—all in one app.
Let everyone follow along with your presentation and dive into the details.
Start meetings with a click from your browser—all you need is Wi-Fi.
Get more done before, during, and after meetings with built-in team messaging.
Integrate your Microsoft 365 or Google Workspace calendar and meet with one click.
Stay connected from your desktop or phone with Glip.
Flip a meeting between your favorite devices and take calls on the go.
As the host, you can keep your meeting secure by muting or unmuting folks, disabling video, and more.
Lower distracting background noise so you can focus on what matters.
Save meeting recordings and highlights to the cloud for up to seven days.
Why pay for a team collaboration app when this is free?
Free your team to work together, from anywhere.