Team chat
anywhere, anytime
A chat platform designed to keep your team in sync.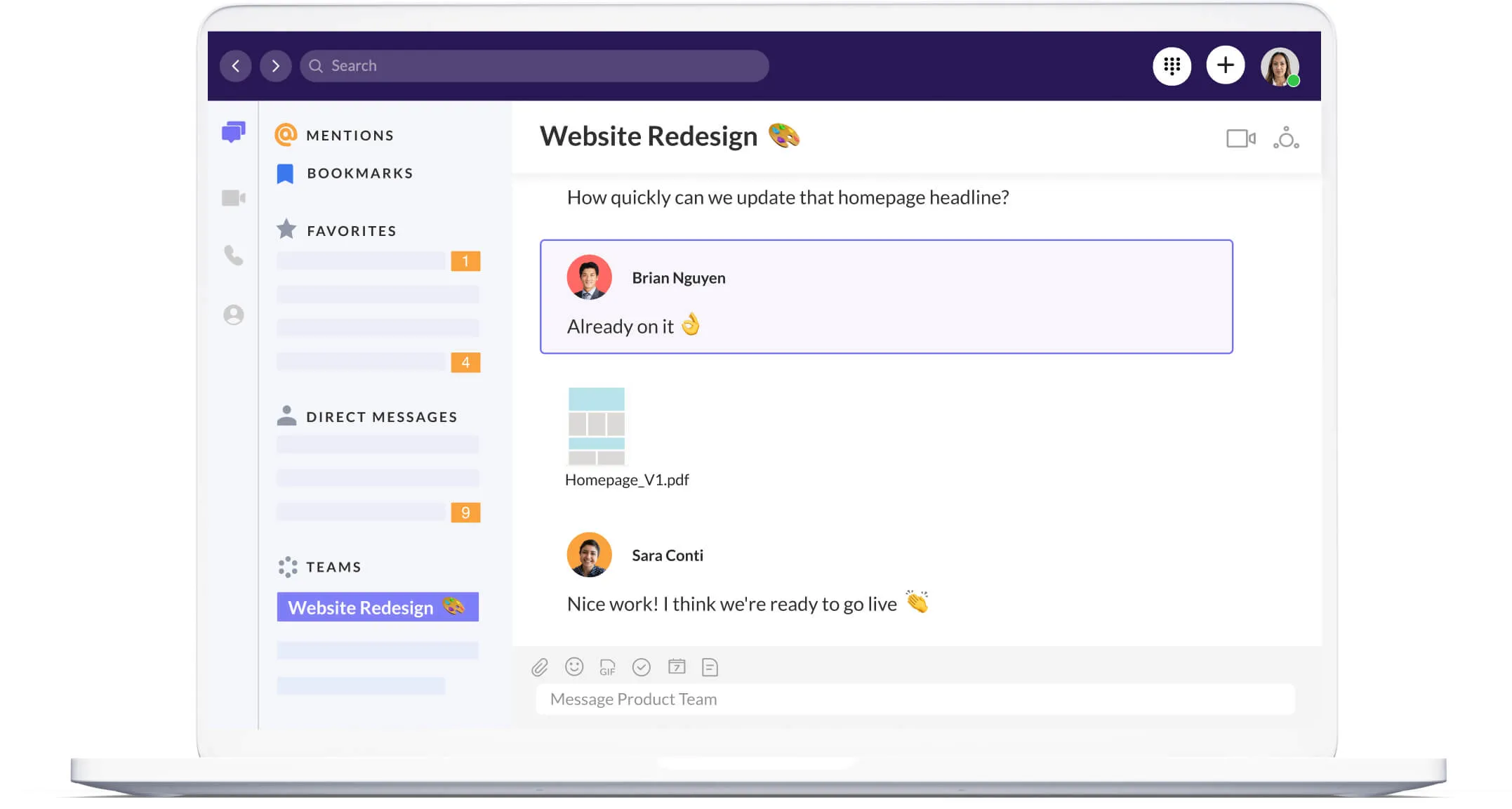 A messaging system with a lot extra
Enterprise-grade security
Robust meeting host controls, reliable uptime, GDPR-compliant, and more.
Invite unlimited users. Post unlimited messages. For free.
Built-in video conferencing
Because sometimes you need that face-to-face interaction.
Meet the do-it-all chat platform
Flip a team chat to video
Not everything needs to be a meeting. But what if you're typing a message and realize that it's easier to just talk it out on a video call or screen share? Glip has video conferencing built right into the messaging system. All you have to do is hit a button to flip your team chat to a video conference—without interrupting the call.
Glip isn't just a work chat app—it has a built-in task management feature that lets you create and assign tasks to your team. Choose a due date, upload relevant files, and even color-code your tasks for easy organization.
All your files in one place
Never lose files and documents in your email inbox again. With Glip's robust messaging system, you can upload and share files directly with your teammates in a chat. (Plus it integrates with Google Drive!)
From contractors to partners to agencies and even clients, your collaborators can get on Glip too for free. Just invite them to your group chat! That'll give them access to useful features like file sharing, video conferencing, and more.
Keep all your notes together
Whether you need to take notes for a meeting or a more complex project, you don't have to email them back and forth or keep them in a separate app. Glip lets you make detailed, beautifully formatted notes and save them to your individual and team chats for easy access.
Team chat that lets you do more than just chat
Message, video, phone, and more—all in one app.
Let everyone follow along with your presentation and dive into the details.
Start meetings with a click from your browser—all you need is Wi-Fi.
Get more done before, during, and after meetings with built-in team messaging.
Integrate your Microsoft 365 or Google Workspace calendar and meet with one click.
Stay connected from your desktop or phone with Glip.
Flip a meeting between your favorite devices and take calls on the go.
As the host, you can keep your meeting secure by muting or unmuting folks, disabling video, 
and more.
Lower distracting background noise so you can focus on what matters.
Save meeting recordings and highlights to the cloud for up to seven days.
Unlock unlimited team chat and video meetings
Free your teams to work together, from anywhere.