A team calendar that keeps you on schedule
Easily visualize and manage your team projects in Glip's intuitive team collaboration platform.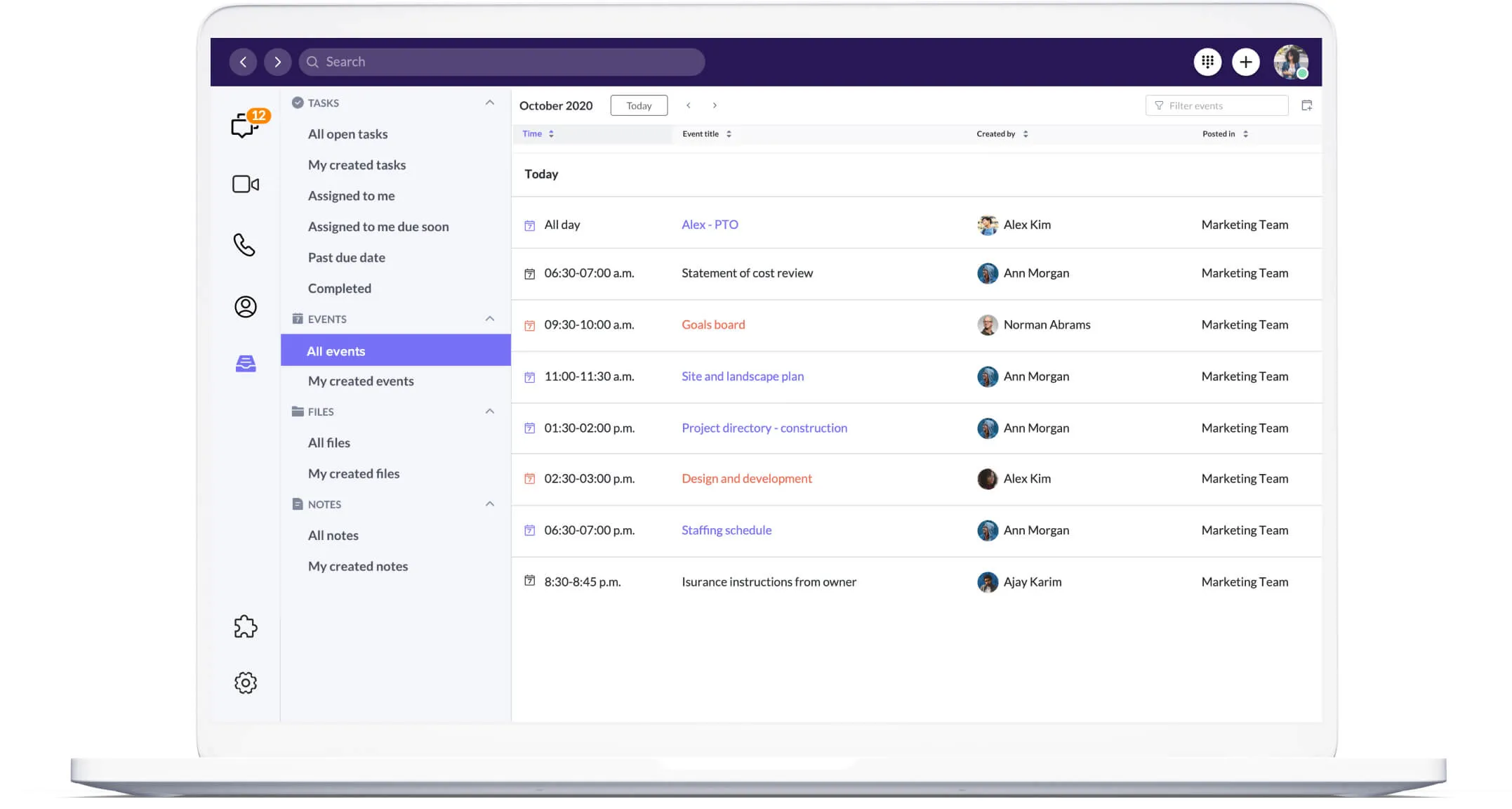 Glip's team calendar feature is built right into your team messaging platform, which means less toggling between apps.

Keep track of tasks and events
You've got a lot going on. Glip keeps all of it together in one app.
From color-coding to attaching files, it's easy to add context to calendar events.
Never be late for an important date again
Be ready for upcoming meetings
You've probably got a lot of meetings scheduled during the day. To make things easier on you, Glip shows you your meetings for the day and notifies you of a meeting that's about to start—just in case you need to do a little prep.
Integrates with Google Calendar and Outlook
Already using other calendars? That's cool too. Glip integrates with Google Calendar and Outlook to pull in your scheduled video meetings so that you can see your meetings for the day.
Get full context on team calendar events
Let's say someone on your Glip team @mentions a new meeting in your team's chat stream, which links right to the event. Just click the link to pop open the event details and see the agenda file (if one has been attached).
Stay on top of your tasks
One of the biggest benefits of having a good team calendar is that it helps everyone on the team keep track of tasks and projects. After your video chat, with Glip's built-in task management feature, create and assign tasks to your teammates—choose a due date, upload your files, and color-code each task for easy organization.
Your meetings command center
Whether you want to start a meeting now or schedule one in the future, you can do both in Glip. See everything you have lined up for the day and any upcoming tasks that are due, right in your team conversations.
Expect more out of your team calendar
Message, meet, and more—all in one app.
Let everyone follow along with your presentation and dive into the details.
Start meetings with a click from your browser—all you need is Wi-Fi.
Get more done before, during, and after meetings with built-in team messaging.
Integrate your Microsoft 365 or Google Workspace calendar and meet with one click.
Stay connected from your desktop or phone with Glip.
Flip a meeting between your favorite devices and take calls on the go.
As the host, you can keep your meeting secure by muting or unmuting folks, disabling video, and more.
Lower distracting background noise so you can focus on what matters.
Save meeting recordings and highlights to the cloud for up to seven days.
Unlock team calendaring, unlimited meetings, and more
Free your team to work together, from anywhere.