Not your average task management software
Meet Glip, with task management features built right into your team communication platform.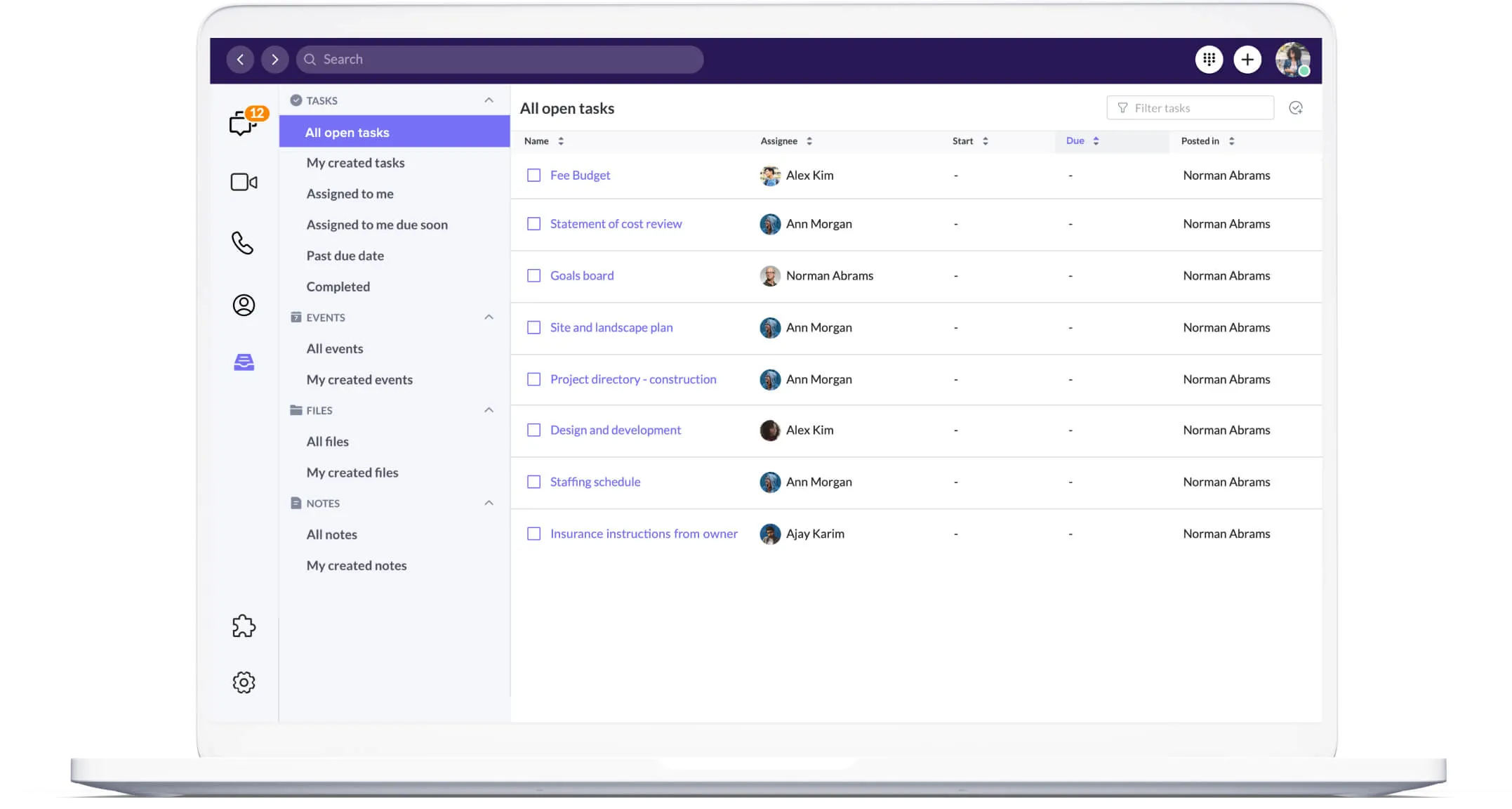 Take your tasks from the to-do list to done
Built into team messaging
Glip's task management features are conveniently integrated into your team chats.
Give your task assignees all the info they need for each task, including notes and file attachments.
Want to see what deadlines are coming up?  Glip lets you see all your open tasks and sort them by date.
Expect more out of your task management tool
Your own personal productivity app
Not only can you assign tasks to your teammates, you can create tasks for yourself too. All those little to-dos that you don't want to forget about during your busy day? Just drop them into a task and assign them to yourself with due dates, just like you would for your team.
Add a little color to your tasks
You've got a hundred different projects going on, and each one might involve different people on your team. Make your tasks easier to organize (and recognize) by assigning a color to each one!
Follow up and stay in sync
Okay, you've got tasks. But how are you communicating with your team to complete them? With Glip, you can start a video conference or message a teammate, right in the same team thread where you created the task.
If you have recurring tasks (e.g., "Put together an email newsletter results report every Friday"), you can set up the task in Glip so that it shows up every week (or day, or month) without you manually creating it every time.
Integrations with other task apps
Already using Trello, Asana, or Jira? No problem. Glip can pull in task updates and notifications from your favorite third-party apps.
The hardest-working task

management software out there
Message, meet, and more—all in one app.
Let everyone follow along with your presentation and dive into the details.
Start meetings with a click from your browser—all you need is Wi-Fi.
Get more done before, during, and after meetings with built-in team messaging.
Integrate your Microsoft 365 or Google Workspace calendar and meet with one click.
Stay connected from your desktop or phone with Glip.
Flip a meeting between your favorite devices and take calls on the go.
As the host, you can keep your meeting secure by muting or unmuting folks, disabling video, and more.
Lower distracting background noise so you can focus on what matters.
Save meeting recordings and highlights to the cloud for up to seven days.
You could pay for task management software…
or just use Glip for free
Free your team to work together, from anywhere.