Say goodbye to jumbled email threads, misplaced files, and impossible-to-find past conversations.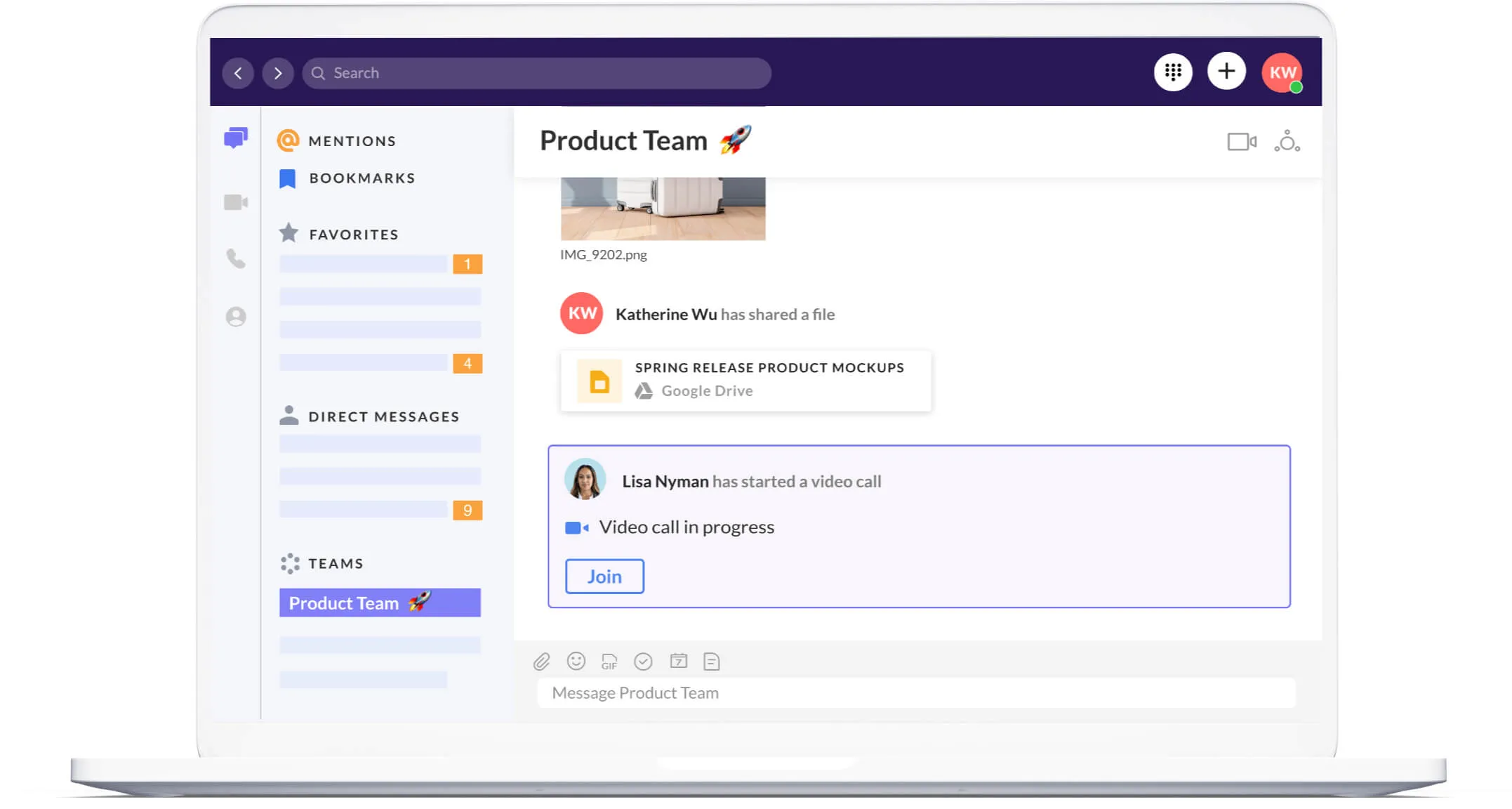 What productivity software should be
All in one app. Fewer apps to manage, fewer tabs to toggle between.
Makes managing tasks easy
Being productive is all about getting stuff done, and Glip makes completing tasks a breeze. (More on that in a bit.)
Truly seamless collaboration
From file sharing to screen sharing and more, Glip literally does it all—in one free app.
How many free productivity tools can do all this?
Waste less time searching for scattered documents, drafts, messages, and tasks. Glip gives you the full picture of every project with messaging, video conferencing, screen sharing, and more, all in one app.
Sometimes, the most productive thing to do is to just skip the meeting and shoot someone a message. Other times, it's faster to just have a two-minute video chat. Glip gives you both: video conferencing and team messaging in one app. (Or, just join from your web browser with a link!)
Never forget a task again
Glip is designed to help you get stuff done. Its built-in task management feature lets you create and assign tasks to your team—right in your team conversations. Just set a due date, add a description, and choose an assignee (or two, or three). You can even upload files and color-code each task to make them easier to organize.
Plays nice with your favorite apps
Want to increase your productivity with your software? Integrate them with each other to reduce the manual work you have to do. Glip does that. Whether it's an email marketing tool, a customer success platform, or an analytics app (or all three), Glip probably has an integration with it. Get updates right in your Glip threads about customer questions, e-commerce orders, or other important notifications from your other apps.
Invite guests to the productivity party
Of course, your productivity isn't just impacted by your team—there are external folks too. Partners, contractors, agencies, and even clients can join your Glip groups for free. Just send them an invite to give them full access to your project threads, video conferencing with your team, and more.
Productivity software that does all the big things
Message, meet, and more—all in one app.
Let everyone follow along with your presentation and dive into the details.
Start meetings with a click from your browser—all you need is Wi-Fi.
Get more done before, during, and after meetings with built-in team messaging.
Integrate your Microsoft 365 or Google Workspace calendar and meet with one click.
Stay connected from your desktop or phone with Glip.
Flip a meeting between your favorite devices and take calls on the go.
As the host, you can keep your meeting secure by muting or unmuting folks, disabling video, and more.
Lower distracting background noise so you can focus on what matters.
Save meeting recordings and highlights to the cloud for up to seven days.
Try the productivity software that gives you unlimited meetings and messaging
Free your team to work together, from anywhere.