Document sharing—without cluttering your inbox
Free file sharing, right in your team conversations.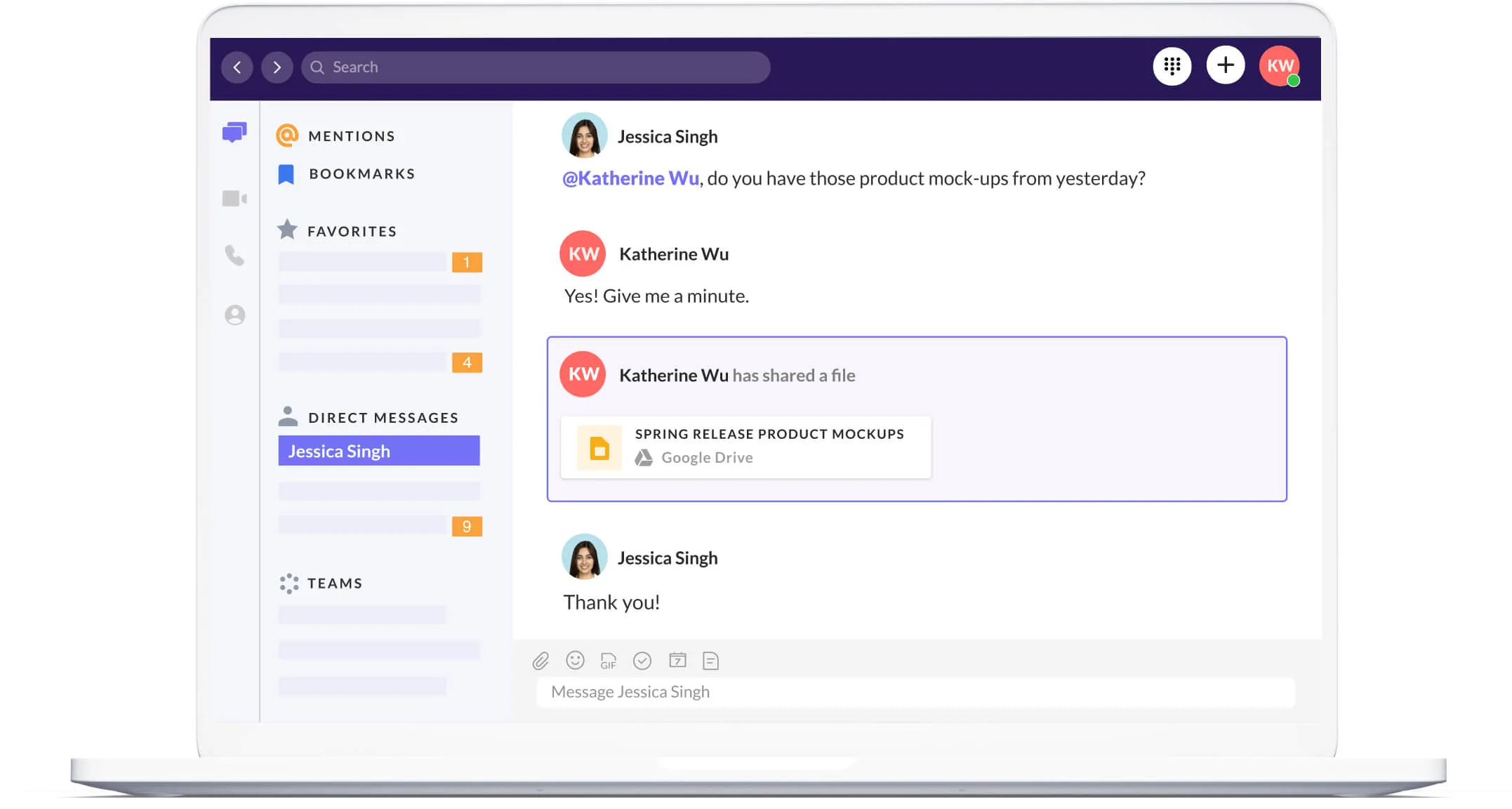 Free, unlimited document and file sharing
Share docs with your teammates in a group or individual chat.
Edit files together as a team with built-in annotations.
Using Google Workspace you can upload files from there right to Glip.
Organized file sharing in one place
No more files lost in long, back-and-forth email threads from weeks (even months) ago. Now, you can share files right in the context of team conversations, making it easy to see the full story of each document.
With Glip, you have options for document sharing. Sure, you can upload them straight from your computer, but you can also easily share files from your Google Drive account, since it integrates right into the Glip app.
Most file storage apps only give you a limited amount of free storage and make you pay if you need more. Not here. Store and share as many documents as you need—for free.
Create more detailed tasks
Glip's built-in task management feature lets you create and assign tasks to your team—and attach files or documents for more context. Choose a due date, upload your files, and even color-code your tasks for easy organization.
Collaboration beyond file sharing
Yes, you can do file sharing in Glip, but there's so much more. From messaging your team to tracking your to-dos to starting a video conference, everything you need to collaborate with a global team is literally in one handy place.
It's not just free document sharing
Message, meet, and more—all in one app.
Let everyone follow along with your presentation and dive into the details.
Start meetings with a click from your browser—all you need is Wi-Fi.
Get more done before, during, and after meetings with built-in team messaging.
Integrate your Microsoft 365 or Google Workspace calendar and meet with one click.
Stay connected from your desktop or phone with Glip.
Flip a meeting between your favorite devices and take calls on the go.
As the host, you can keep your meeting secure by muting or unmuting folks, disabling video, and more.
Lower distracting background noise so you can focus on what matters.
Save meeting recordings and highlights to the cloud for up to seven days.
Unlock unlimited document sharing, meetings, and messaging
Free your teams to work together, from anywhere.