The best team messaging app, with fewer limits—while still being free.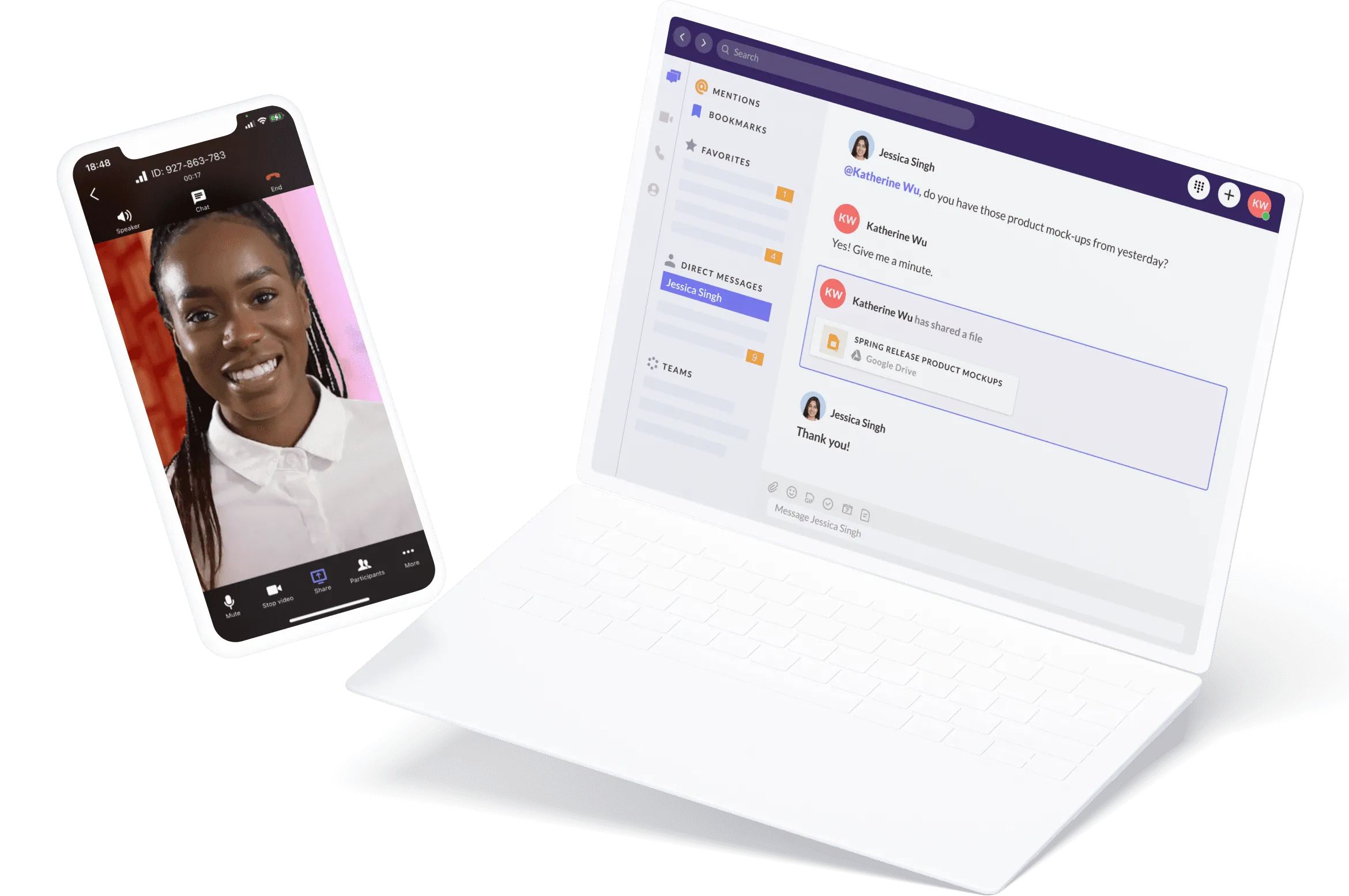 If you're looking for the best free team messaging app, Glip has everything that Slack has—with more integrations and fewer limits on a ton of features.
A free team messaging app that gives you more than the basics
Message individuals, teams, and guest users.
Sometimes, you just need to have a team meeting.
Create and assign tasks with due dates and even color-coding for easy organization.
Yep, you can share your screen too—perfect for presenting charts, graphs, and other visuals.
Slack vs Glip: A feature comparison
Don't want to just take our word for it? Totally fair.
So, let's dig into the features to see how Slack and Glip stack up.
Real-time chat and group messaging
Integrated task management
Just a few of Glip's benefits
Whether you need to have a face-to-face discussion in your one-on-one or a meeting with the whole team, you can start (or schedule) video conference calls directly in Glip.
Don't want to block up people's time with a meeting when a quick message will suffice? Glip lets you do that too. Create a group or project-based thread to keep everyone aligned!
Work with contractors? Consultants? How about clients? You can invite them to a group chat for free. They'll have access to all the awesome features they need to collaborate with you and your team, like file sharing, video conferencing, and more.
Work from any device, anywhere
Whether you're on a Mac or PC, an iPhone or an Android phone, Glip plays nice with all these devices. You and your guests don't even need to download the app to join a video call on Glip—just join from a browser using a link.
Team messaging that picks up the slack for you
Message, meet, and more—all in one app.
Let everyone follow along with your presentation and dive into the details.
Start meetings with a click from your browser—all you need is Wi-Fi.
Get more done before, during, and after meetings with built-in team messaging.
Integrate your Microsoft 365 or Google Workspace and meet with one click.
Stay connected from your desktop or phone 
with Glip.
Flip a meeting between your favorite devices and take calls on the go.
As the host, you can keep your meeting secure by muting or unmuting folks, disabling video, and more.
Lower distracting background noise so you can focus on what matters.
Save meeting recordings and highlights to the cloud for up to seven days.
Get unlimited meetings & messaging 
with the best Slack alternative
Free your team to work together, from anywhere.