The Microsoft Teams alternative that gives you more… for the same sweet price of $0.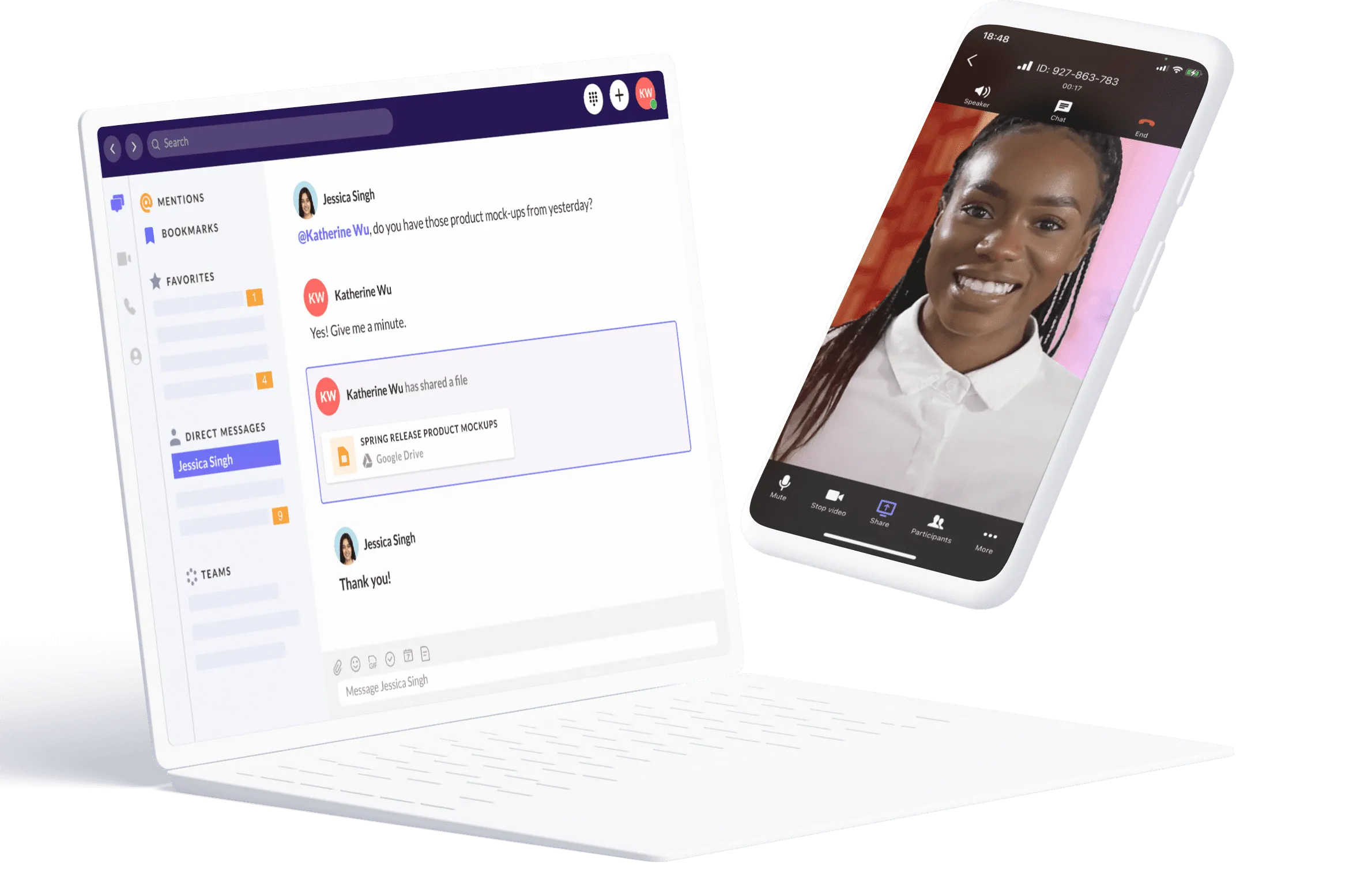 At first glance, Glip and Microsoft Teams seem to do a lot of the same things. Both cover most of your bases, with features like screen sharing, file sharing, and unlimited messaging. But dig a little deeper and you'll find that one gives you more bang for your buck. (Granted, that "buck" is technically "zero dollars.")
Talk with your teammates, clients, and even guest users.
Chat with your team and see past  conversations too.
Create, assign, and keep track of tasks in your team chats.
Share, upload, and collaborate on files in Glip.
Glip vs Microsoft Teams: A feature comparison
The biggest advantage of Glip is that it can grow with your team no matter how many members you add or how many files you want to share and store on the app—with no additional cost. With Microsoft Teams, on the other hand, you have more restrictions—for example, in terms of file storage.
Check out how much more you get with Glip for free than with Microsoft Teams' free plan.
Real-time chat and group messaging
Limited group video calls
Unlimited people in private chat
Integrated task management
One neat thing about Glip is that not only do you get unlimited video meetings, Glip also lets you record those meetings for reference later on. For example, if you're anticipating a good brainstorming session or want to record a training meeting so that you don't have to train new hires from scratch every time, you can record those meetings using Glip.
Communication channels are important, sure, but there's more to getting work done than that. Instead of having a separate task management tool (that you might have to pay for), why not just use Glip's built-in task management feature? Create a task, assign it to someone (or yourself!), upload any relevant files, add your notes, and of course, set a deadline. Keep everyone in sync, in the same app.
Work on docs (other than Word)
Okay, Microsoft Teams lets you access, share and make comments in Word, PowerPoint and Excel files. But what if your team is using something that's not in the Microsoft suite, like Google Docs or PDFs? With Glip, you can annotate these types of files too in the Glip app and not directly on the file. That means your teammates will see your notes without you having to edit the actual document or saving a bunch of different versions. Oh, and you can also create a task right in a shared file or image and assign it in Glip.
With Glip, you'll get award-winning customer service from RingCentral, our parent company and the leading cloud communications platform. You'll have free access to our support team to help you get started with Glip, plus free live support 24/7 online or by phone if you ever have questions or need help. It's enterprise-level support—without the price tag of an enterprise-level account.
A quick teaser of everything you get with Glip...
Message, meet, and more—all in one app.
Let everyone follow along with your presentation and dive into the details.
Start meetings with a click from your browser—all you need is Wi-Fi.
Get more done before, during, and after meetings with built-in team messaging.
Integrate your MIcrosoft 365 or Google Workspace and meet with one click.
Stay connected from your desktop or phone with Glip.
Flip a meeting between your favorite devices and take calls on the go.
As the host, you can keep your meeting secure by muting or unmuting folks, disabling video, and more.
Lower distracting background noise so you can focus on what matters.
Save meeting recordings and highlights to the cloud for up to seven days.
Get unlimited meetings & messaging with Glip
Plus some sweet extras, that you won't get with Microsoft Teams.