The free collaboration app that means business.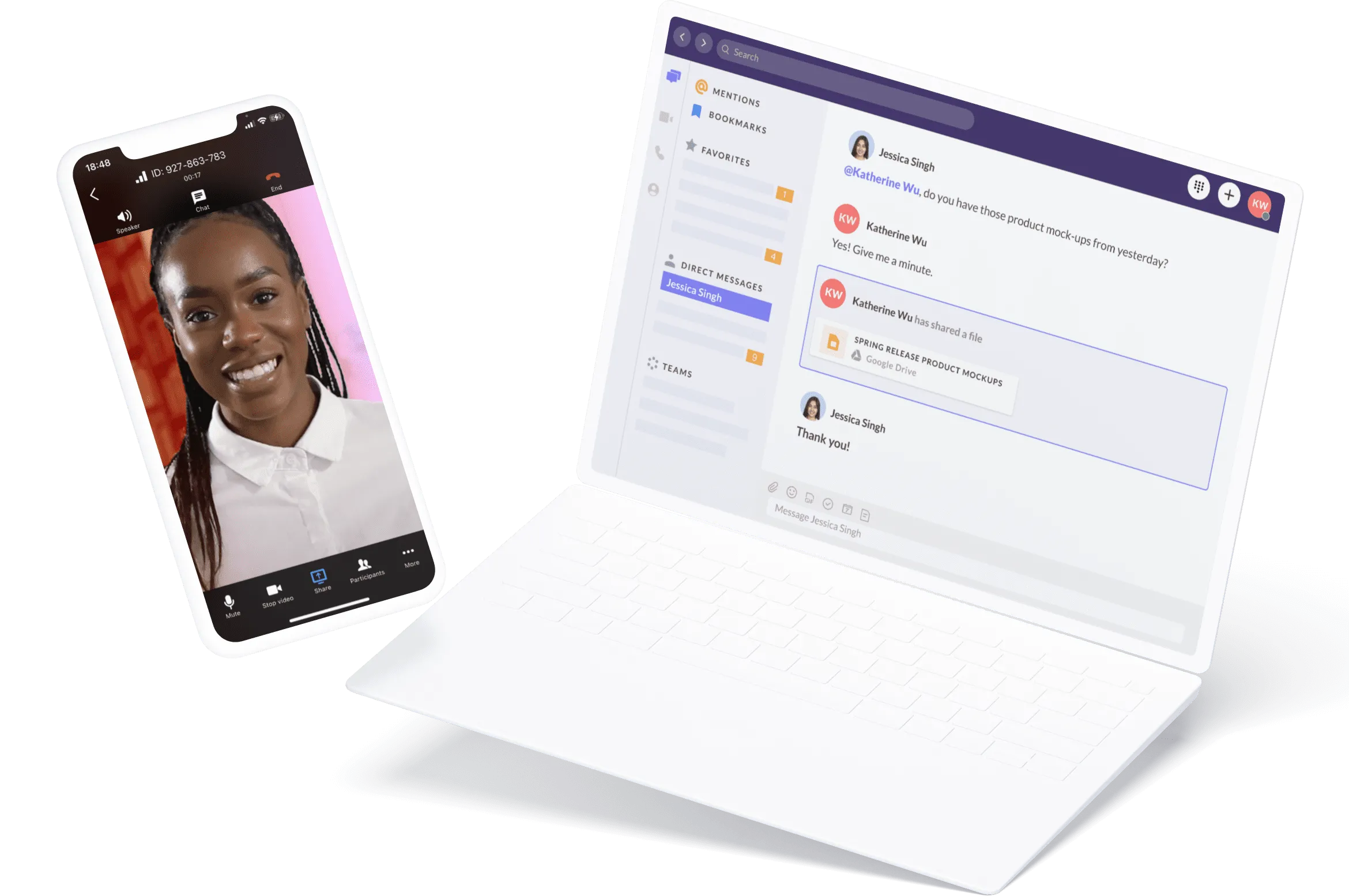 Glip: Not here to play games
Here's the thing. Glip was developed specifically to help professional teams and businesses collaborate more effectively on complex projects, even if those teams are in different offices or different regions around the world. If you're trying to improve your team's communication and collaboration and not be limited by features, you'll want Glip. Keep reading to see why.
Start a call or schedule one later right in the Glip app.
Message someone privately, or ping the whole team.
Stay on top of your assignments and due dates.
Upload drafts and documents right to a team chat.
Glip vs Discord: See how they stack up
There's a reason you don't hear much about businesses using Discord to work together online. The app offers real-time chat and (very limited) file sharing, but that's about the end of Discord's team collaboration capability.
Learn more about what you get with Glip, which has not only team messaging (and file sharing!) but also file annotation, task management, and team calendar sharing.
Real-time chat and group messaging
Integrated task management
Unlimited app integrations
One of the best free Discord alternatives
Everything your team needs
With some free tools, your team might need other additional apps for managing tasks, storing files, and recording meetings. With Glip, you don't have to pay for separate tools to do those things—they come included already.
More robust video meetings
Not only do you get HD video and voice in your virtual conferences, but Glip also gives you some other sweet extras too. For example, you can record meetings and store them, allow someone to join by dialing in on the phone, share your screen, and more!
Get more done together, faster
One of the most unique features of Glip is that it has built-in task management. That means you can create a task, add notes to it, assign it to someone, set a deadline and even color-code it—all right in a team conversation, using the same app that you use for messaging and video calls.
Keep your meetings on lock
Glip takes your security and privacy seriously, with features like meeting passwords. Even if someone somehow stumbles into your meeting, Glip allows the host to control the meeting by muting or removing unruly (or uninvited) guests.
Need a reason to try Glip over Discord? We'll give you 9
Message, meet, and more—all in one app.
Let everyone follow along with your presentation and dive into the details.
Start meetings with a click from your browser—all you need is Wi-Fi.
Get more done before, during, and after meetings with built-in team messaging.
Integrate your Microsoft 365 or Google Workspace and meet with one click.
Stay connected from your desktop or phone 
with Glip.
Flip a meeting between your favorite devices and take calls on the go.
As the host, you can keep your meeting secure by muting or unmuting folks, disabling video, and more.
Lower distracting background noise so you can focus on what matters.
Save meeting recordings and highlights to the cloud for up to seven days.
Try the best Discord alternative for meetings and messaging
Free your team to work together, from anywhere.