Only one gives you group calls and more file storage.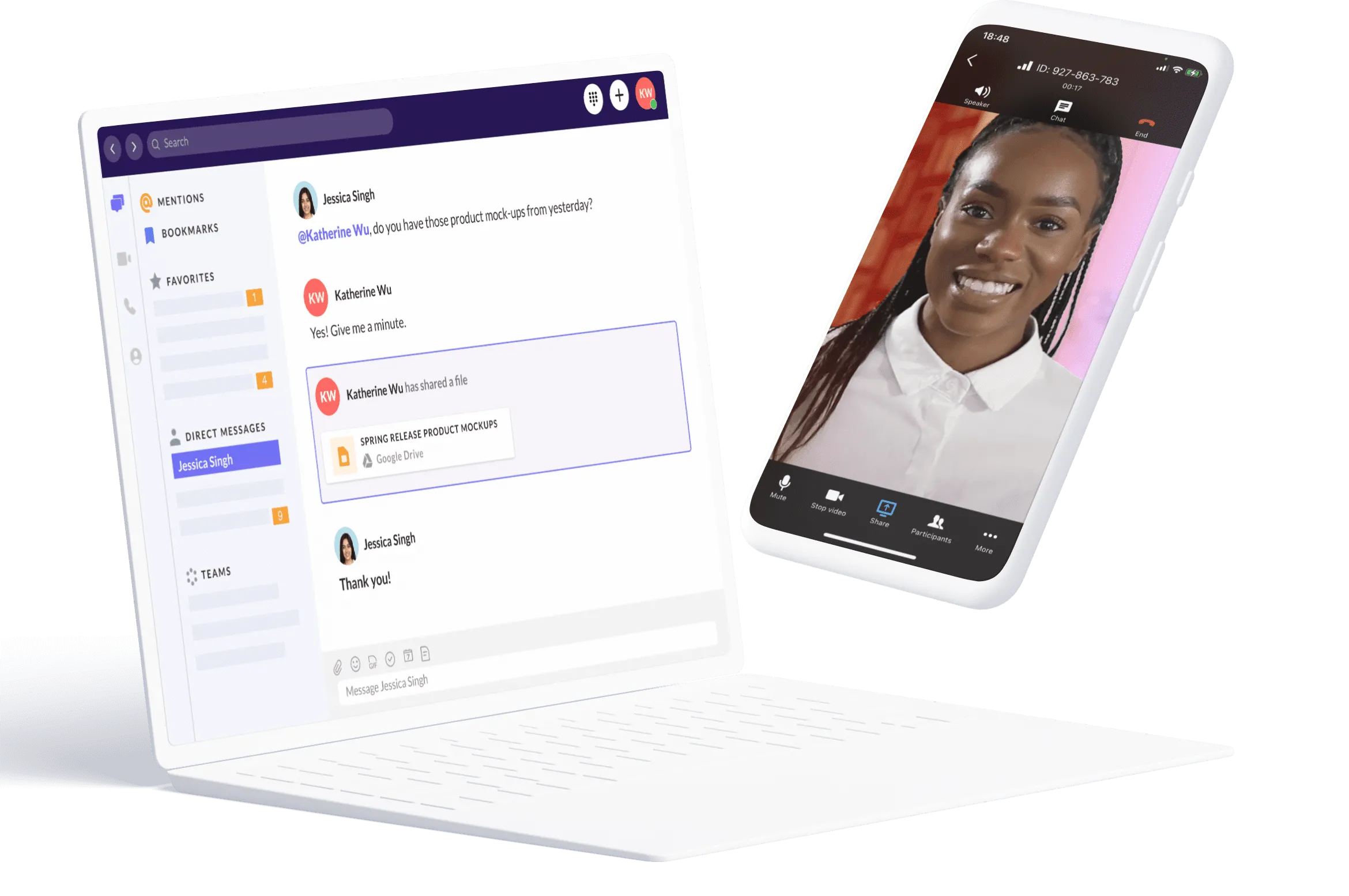 If you're looking for a free tool that lets your team communicate with each other from anywhere, both Glip and Chatwork might seem to be good fits. But one gives you more bang for your buck. (Though technically, your "buck" is zero dollars, but who's counting?) 
Glip lets you meet with a whole team or project-based group.
Get crystal-clear image and sound on calls.
Stay on top of your projects with Glip's built-in tasks.
A whopping 15 GB of it. Plus file annotation too!
Glip vs Chatwork: See how they stack up
Even with the premium paid version of Chatwork, you're limited to 10 GB of file storage. Glip gives you 15 GB free, right off the bat. Plus, you get meeting recordings, unlimited teams… the list goes on.
Check out a more detailed feature comparison below:
Real-time chat and group messaging
Integrated task management
Unlimited app integrations
How many Chatwork alternatives let you do all this for free?
Get everything you need in one app
With some free tools, your team might need other additional apps for screen sharing, storing files, and recording meetings. But many of Glip's best free team collaboration features, like in-app file annotation and meeting host controls, are available only with the paid enterprise versions of some apps.
Ping the group, or keep it private
With Glip, you're not limited to a certain number of teams. Sure, you can have a team chat for your department, but you can also have private conversations for smaller teams or pods dedicated to specific projects. This way, everything from past messages to uploaded files all stay in one easily accessible place.
Level up your video meeting
Not only do you get high-definition video in Glip, you can share your screen with attendees too. Plus, you can annotate documents on screen with your team, message each other or all the attendees in the chat box, and more. This isn't your average 1-on-1 meeting.
Need to collaborate on a file or presentation with your teammates? You can do that in Glip without confusing and messy versioning history. Annotate docs without affecting the original file—and all your comments are recorded right in the team chat.
Need a reason to try Glip over Chatwork?

We'll give you 9
Message, meet, and more—all in one app.
Let everyone follow along with your presentation and dive into the details.
Start meetings with a click from your browser—all you need is Wi-Fi.
Get more done before, during, and after meetings with built-in team messaging.
Integrate your Microsoft 365 or Google Workspace and meet with one click.
Stay connected from your desktop or phone with Glip.
Flip a meeting between your favorite devices and take calls on the go.
As the host, you can keep your meeting secure by muting or unmuting folks, disabling video, and more.
Lower distracting background noise so you can focus on what matters.
Save meeting recordings and highlights to the cloud for up to seven days.
Try the best Chatwork alternative for meetings
and messaging
Free your team to work together, from anywhere.